Dozer Blade Features
Hover over a hotspot to see what benefits our dozer blades have to offer.
Feb. 2, 2023 to Feb. 4, 2023
Feb. 14, 2023 to Feb. 16, 2023
What Our Customers Say About Us

We are blown away at the quality and thought out engineering of this blade. I personally can't stop raving about it. It makes better piles in less time than the old one. Lift height is only one of a long list of things put into this blade that make me a huge fan of Grouser. I've in fact joked about driving to North Dakota just to stop in and say thanks for the awesome blade."
"This blade is absolutely incredible. Trucks don't wait to dump at the bunkers anymore. The chopper doesn't have to wait for trucks anymore. The Grouser moves feed faster than the competition's blade we used to have. The tractor has less strokes and motion, saving wear and fuel. I spill less feed over the walls, I have better control of the cutting edge with a great view of it from the cab, the high clearance framing and linkage arms keep a neat pile without dragging feed around.

"I think they are great and they did more than I expected them to do. The product is exceptional in my view."

"Before outfitting my CAT 246 with bar tracks, my machine could not perform most of the tasks I really needed it for. It's a great tractor, but still rather helpless in the rugged terrain around my 200 acres in east Shasta County. The tracks have exceeded all my expectations. Now I am constantly finding new operations I can perform with it that were impossible before."

Whether it is Bar, Hard or Soft Tracks, all are built tough and condition-suited. Talk about customer service! No question's too complicated or too silly. We have never experienced a delay in shipment – even during the peak busy months of summer!
Grouser is a well-organized company made up of excellent employees, which makes for a perfect match for us at White Star and our customers."
"Our customers expect White Star to sell quality, long-lasting, trouble-free equipment and attachments. That is what you have at Grouser Products. They offer a broad line to fit any track conditions that a customer may encounter in his line of business.

"(Our customer) is very satisfied with the blade. Everything is so good they are in heaven!!! The mounting on the tractor went well, no problems. I will recommend this blade if anybody asks."
About Grouser
Our first experimental tire track was built in 1975.
After twelve years of development, it was introduced into the market. That original design remains the basis for today's Grouser track systems—accepted by many as the #1 over the tire track available.
In 1978, Grouser brought its first dozer to the tractor market. Today, Grouser remains one of the few manufacturers of big 6-way hydraulic dozers for 2WD tractors, 4WD tractors, and skid steer loaders.
Our 20,000 square foot facility was built in 1997 and expanded to 40,000 sq. ft. in 1999 with the growth of demand for our products.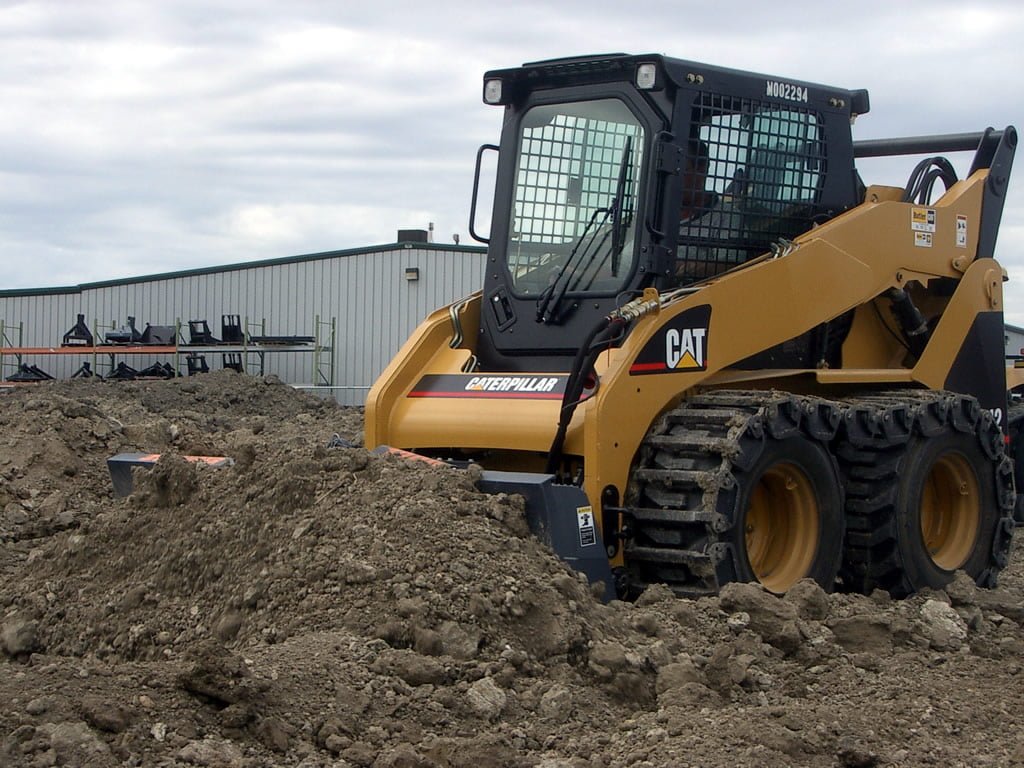 Designing Superior Products
Our primary focus is to design dozers blades, over the tire tracks, and our other products that work better for your application. With over 40 years of experience, testing, and customer feedback, we're always trying to one-up ourselves. This is what makes our products the most dependable, efficient, and versatile available.
To contact a Grouser dealer near you, use our online Find A Dealer tool.